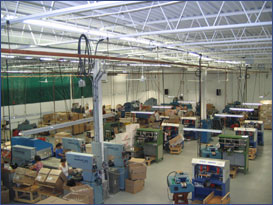 Mystic Assembly & Decorating Co., Inc. has been providing the highest quality container decoration since it was founded in 1991.  We currently operate out of a 45,000 square foot, state of the art facility.  Our production floor utilizes 12 multi-color automatic screen printing lines allowing us to compete for the multi-color, high volume decorating projects that many of our customers require.  We also operate multiple semi-automatic screen printing machines to accommodate customers with smaller volume printing needs.  Our wide variety of pad printing, hot stamping and banding machines along with numerous automatic and semi-automatic labeling machines allows us to serve our customer's various decorating needs.  We acquired an automatic shrink sleeve application line in 2015 to allow us to also provide shrink sleeve application services to our customers.
Mystic is located north of Philadelphia, Pennsylvania in Lower Bucks County. We are centrally located between many of the manufacturing and filling companies which makes it convenient and cost effective for our customers to ship their product to us for decoration and then on to the filler.
Because of our diversity of equipment and experience in the decorating industry we are able to provide service to a broad base of industries. We service the automotive, cosmetic / personal care, medical, pharmaceutical, electrical and telecommunication industries. We also service many injection molding and manufacturing companies as well as the advertising specialty and promotional products industries. Because we provide value added services such as assembly and packaging in conjunction with our decorating service, we are able to offer our customers one stop shopping, enabling them to have multiple operations performed under the same roof. This not only reduces lead time but eliminates costly shipping and handling costs which in turn reduces the overall cost of producing their product.
Mystic's goal is to be the finest decorating and assembly company in the market place. This philosophy is instilled in every person associated with the Mystic organization. We realize our customers are looking for quality, service and dependability at a competitive price and we are committed to achieving that goal.
Our philosophy is to provide state-of-the-art one stop shopping for our customers so that they may better concentrate their efforts on developing, marketing and expanding their business. If our company sounds like a good fit for the services you require, please call us at 215-957-0280 or email us at [javascript protected email address].
We look forward to hearing from you.